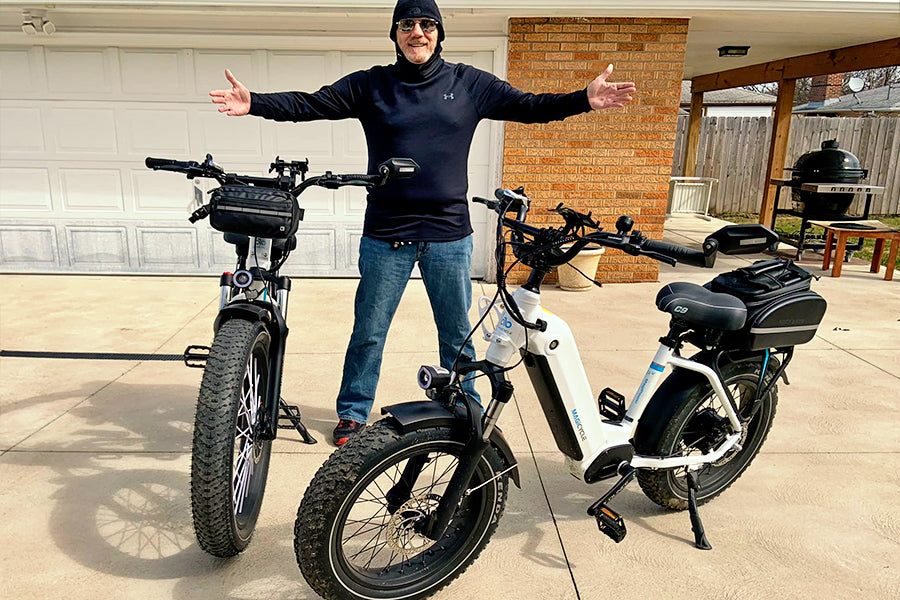 May 26,2023
5 Reasons You Need An Electric Mountain Bike For Climbing Steep Hills
Mountain ebikes are everywhere nowadays, and if you did not hop on the trend yet, don't worry, after reading this post we're sure you'll want to start browsing for your next favorite electric mountain bike.
In this post, we'll talk about the 5 reasons why you need an electric mountain bike for climbing steep hills. Including topics like comfortability, bike features, quality materials, and more. Plus, the best place to find top full-suspension electric mountain bikes at affordable prices.
1. Ride More Comfortably
Electric mountain bikes feature a suspension system that makes riding easier and more comfortable. Thanks to the suspension system, the mountain ebike always stays on the ground, allowing you to climb steep hills and go down as many times as you want without worrying about the state of your ebike.
As if this wasn't enough, full-suspension electric mountain bikes are specifically designed to be used to climb steep hills, therefore investing in one can help you finally reach the top of that mountain or hill you've always wanted to climb with your bike.
Electric mountain bikes for sale have incredible features that aid in steep hills, such as pedal assistance and throttle assistance. Further, they're made with high-quality materials and the right proportions and measurements to allow you to comfortably seat on your bike.
In the long run, this will come in handy when you spend a lot of time riding or if you want to start riding every day without ending up with a sore body.
2. Always Have the Power To Climb Steep Hills
A major concern among mountain bike riders involves climbing steep hills or mountains, and whether you're a beginner or an experienced rider, you'd want to pay attention to this part.
Electric mountain bikes for sale feature large-capacity batteries and a high-power motor, which maximizes your pedaling and grants you that extra power you need to climb steep hills without having to give your maximum effort.
If you're a beginner rider or someone with mobility issues, having these sorts of features will make your riding experience a lot better and more joyful. When looking for your next electric mountain bike, keep an eye out for some of the specifications mentioned.
With a full-suspension electric mountain bike, you can climb the steepest hill and rest peacefully knowing you have a trustworthy ebike that will keep you safe and on the ground at all times.
3. Have Better Everything
Mountain ebikes are more robust and have better components and overall, higher quality in everything. When looking for a mountain bike to climb steep hills, you might want to lean towards bike models that feature a top-class design and parts regulated by professionals.
Many cheap electric mountain bikes appeal to people due to their affordable price, but they end up underperforming in just a few rides. Plus, there have been many cases of riders getting injured because their cheap bike couldn't climb the steep hill they were looking for, the brakes did not work as expected, and more.
Magicycle Deer full-suspension electric mountain bikes are made with only the best materials and components available on the market, and each bike goes through a rigorous test process before becoming available to sale.
When climbing steep hills, having a top-class electric mountain bike can make the difference when it comes to your performance, safety and riding experience.
4. Quality Battery To Ride Farther
The fourth reason to invest in an electric mountain bike for climbing steep hills revolves around the quality of the battery they come with, which allows you to travel farther.
Our electric mountain bikes for sale can be used to tour 80 miles in range per charging cycle. For those who love long-distance riding, this will come in handy.
Featuring a 52V 20Ah large-capacity lithium battery, you can have more range, stability, and safety. This battery takes a while to drain, and whenever you need to charge it, it works exactly like a smartphone.
To use pedal assistance and other features that require more power, especially when climbing steep hills, you need to have a high-quality battery. When looking for your next electric bike, make sure to choose one with a powerful battery like the one mentioned.
5. Easy To Use On Hills & The Road
Investing in a mountain ebike is one of the best things you can do for your health, but apart from being excellent choices for hills and mountains, they are also perfect for the road.
What makes full-suspension electric mountain bikes different from common bikes is that they're easier to ride, no matter the terrain or weather conditions.
Thanks to the full suspension system, you can have more control of the bike and you don't need to make a huge effort to get from one place to the other. Although exercising is good, for people with mobility issues or those who are prone to getting sore after riding a bike, the features of full-suspension electric mountain bikes can truly come in handy
You can say goodbye to end up sweating like crazy every time you ride your bike for a few minutes, as well as injuring yourself trying to climb a steep hill.
Conclusion
In this post, we talked about the top reasons why you should have an electric mountain bike for climbing steep hills. We shared information about the benefits of electric mountain bikes, how they can enhance your performance and riding experience, and more.
If you're looking for quality electric mountain bikes, we recommend you check out the Magicycle Cruiser Pro and the Magicycle Deer.
Cruiser Pro is one of the best fat-tire electric mountain bikes we offer, and it is perfect for steep hills, rocky terrain, mud, and everything in between. As for the Deer, it is your go-to SUV ebike ideal for off-road adventure.
We also recommend you check out our blog where we regularly upload informational posts like this one.
Magicycle Deer Ebike SUV is now available at only $2,499. Check out these promo codes to save $100 off the purchase of 1 Deer (KA100), or $300 off the purchase of 2 (KA700). Limited Offer, come check out and grab one.