July 08,2023
The Beginners' Guide to Camping with an Electric Bike
Embarking on a camping adventure can be an exhilarating experience, which allows you to enjoy nature's beauty. To enhance the camping experience, Camping enthusiasts around the world are increasingly turning to electric bikes.
With an appropriate electric bike, going camping can be a lot more fun and enjoyable. However, this is not as simple as it seems. In this article, we will walk you through everything you need to know about camping with an ebike and introduce the best electric bike for camping.
What Is Camping with an Electric Bike?
Literally, camping with an ebike refers to the joy of camping combined with the convenience and comfort of an electric bike. It needs an ebike or more as a means of transportation and to carry necessary camping gear and stuff. Electric bikes can also be used to explore and enjoy the pleasant nature on the camping spot. Compared with driving a car or using some other means of transportation, riding an ebike allows riders to easily go through all kinds of terrain, including city streets, trails, mountain roads, and forests.
By riding an electric bike, commuting can be more flexible. Campers can cover more distance and tackle challenging terrains easily. When it comes to some narrow streets and trails, electric bikes can perform far better than other vehicles. Moreover, camping with an ebike gives the rider a workout.
How to choose an electric bike for camping?
Not all electric bikes are suitable for ebike camping. For example, off-road or long-distance travel is not ideal on a slender commuter ebike. Below we will walk you through essential aspects that you need to consider to purchase an electric bike for camping.
Terrain
First thing first, you'd better take a look at Google Maps to see what kind of terrain you will encounter. If you are to ride on smooth streets or roads all the way, then you could consider a lightweight commuter, which is convenient to carry and maneuver.
Just as mentioned above, commuter ebikes are not designed to go off-road and for long trips. So if you are to ride on bumpy roads and bike trails, be sure to choose ebikes with at least fat tires and suspensions, which can make you feel more comfortable on them.
Range
This is one of the most important aspects you must consider. Daily commuting does not always require a large battery capacity, as it will be sufficient until the ebike owner recharges. However, camping with an ebike commonly covers a longer distance. I am sure you don't want to ride your ebikes to camping spots while worrying about the battery capacity.
Normally, a 20Ah battery is a wise choice, and it will be better if it comes with a fast-charing charger. Besides the battery capacity, you will need to make sure there are charging points that are within reachable distance.
Power
The motor power is the key factor that improves the overall experience of camping with an ebike, especially when you have to ride off-road. No matter what kind of motor you are preferring, mid-drive or hub motor, you must consider the power output, peak power, or rated power, which are measured in watts.
Space and Storage
If you are driving a car to camping spots, maybe a folding ebike will be a better choice. Before you get to use the bike, you could always fold and place it in the trunk. With the ebike in the trunk, you don't need to worry about it being stolen.
Appropriate Size
As camping with an ebike involves long rides, it could be tiring if the size of the bike doesn't fit well. If you are not sure if the bike you are looking at fits you or not, you can test-ride it directly. The key point is that you should get a comfortable riding position to combat fatigue.
Best Electric Bike for Camping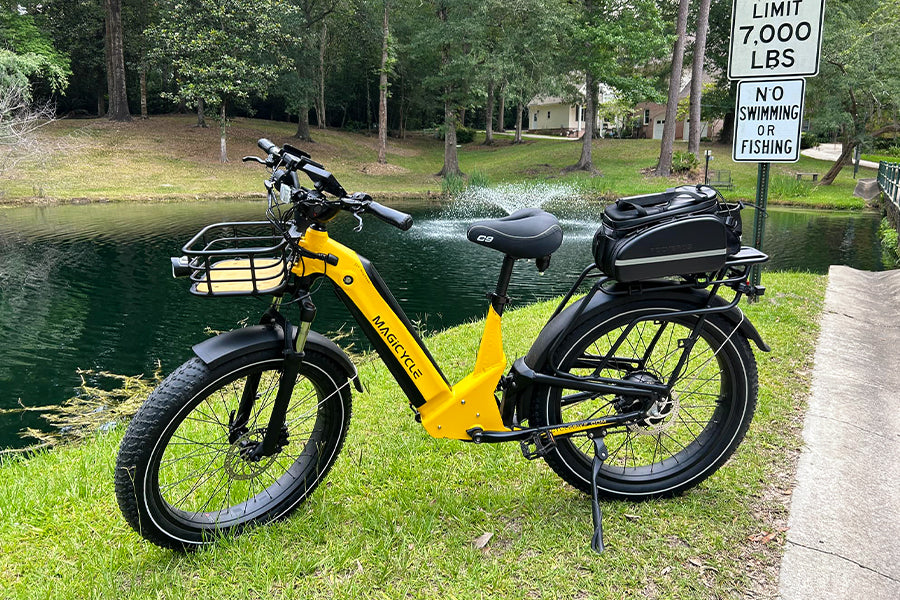 Here is our recommendation: Magicycle Deer. As the first ebike suv, Deer is a perfect choice for camping. It comes with a 20Ah large battery and a 1100W peak-power motor, providing impressive power and range. Also, Deer is equipped with a full suspension system to absorb shocks and vibration on the roads, giving you the best experience for camping with an ebike.
For more details, you can contact Magicycle at support@magicyclebike.com or call us at +1 213 900 7090.