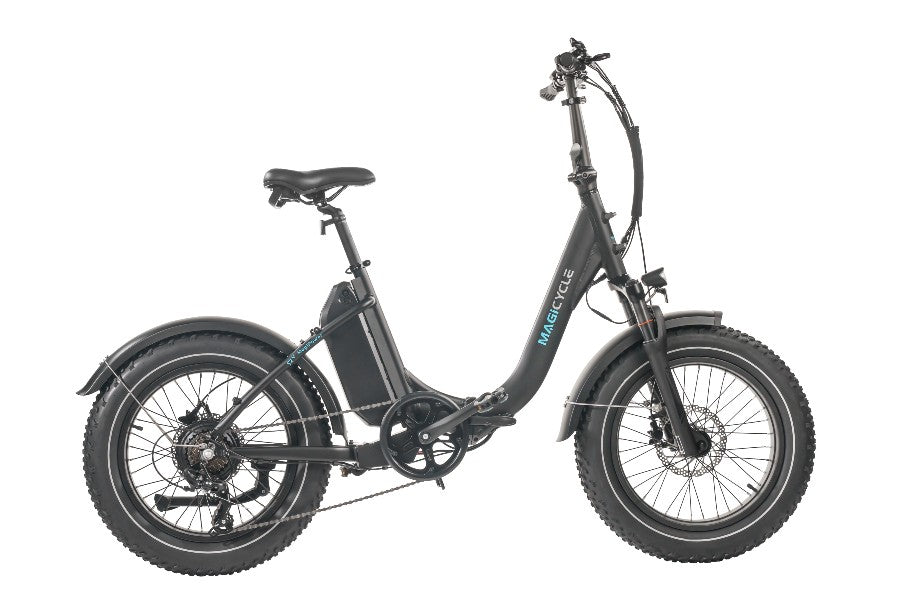 May 26,2023
Is It Worth Getting a Folding Electric Bike? 2022 Buying Guide
As there are folding bikes in the market, it is quite not surprising for folding electric bikes to exist out there. Over the last few years, folding electric bikes have been more and more popular and well-known as ebike manufacturers are always trying to create better ebikes to cover all kinds of needs. With this being so, people are more and more aware of the advantages of folding electric bikes. However, not all people worldwide have a clear understanding of them. That is why I am here to answer one of the most asked questions: are folding bikes good and worth it?
The Benefits of Folding Electric Bikes
1. Secure
Sadly, the situations where ebikes are stolen by thieves happen all the time. And if you are lucky enough, you may be able to get your electric bikes back, otherwise, you will have to lose them forever.
And moreover, sometimes you cannot get your ebike into your office or your house to keep watching them because it is inappropriate. You might ask why not purchase a password lock to lock them outside? Well, in this case, you have to put your ebike in the sunlight or rain, which will cause more or less damage to them. Also, even though you don't care about that damage, a simple lock can't stop thieves all the time if they are skilled ones.
So, here is the thing I am trying to let you know: one of the most obvious benefits of folding fat tire electric bikes is that you can just keep them by your side easily. Even though you work or live in a small space, you are able to fold them and just put them right in the corner where they won't be in anybody's way. And this will save you money for those locks.
2. Save space
As I said in the last section, folding electric bikes can be folded to a smaller size to be in a corner or somewhere else, so it is not difficult for you guys to understand why they can save space. Actually, it can not only do that in an office or house but in a lift. Things happen all the time when you push an ebike in a lift and find out it is too long for the lift. It is quite upsetting because nobody wants to carry their ebikes up and down many floors. However, if you just fold your ebikes up, this will never ever be a problem.
3. Great Quality
I believe many people think folding electric bikes are just low-quality products that are produced by manufacturers to get more profit. However, this depends on the brand you are choosing.
Compared with most Cruisers, Magicycle Jaguarundi is much lighter The aluminum frame makes sure the bike is solid and firm. The combination of its folding size and weight offers you an easy and relaxing riding experience. Also, every Jaguarundi is equipped with a pair of hydraulic disc brakes and hydraulic front forks, upgrading your rides to the best.
4. Convenient for Transportations
For city commuters, folding
electric bikes for adults
can also be regarded as great commuter ebikes for the reason that they make it possible for city commuters to ride free, ride fun!
One positive point of folding electric bikes is that you can just ride them to bus stations or the metro around you and fold them up on board. It seems not a difficult thing for folding electric bikes, but for regular bikes, whether they are electric or not, it could be annoying to get them on board.
Moreover, it will be a lot easier for you to place folding electric bikes in a car trunk. So if you are longing for a self-driving tour with your ebikes, there is no doubt that you can get one of the electric folding bikes.
Related Inquiries
1. Are electric folding bikes allowed on public transport?
This depends on the local laws. There are different rules and regulations regarding this in different states. You will have to check them out before doing so in case you will be embarrassed about that.
2. Are electric folding bikes safe?
This one can be one of the most asked questions. I can guarantee you that you won't be in trouble if you select a folding electric bike of high quality like the Magicycle Jaguarundi. And also, you need to follow the restrictions given by manufacturers. For example, make sure the cargo you are carrying is within weight limitation or your ebike will not be able to move as you expect.
Recommended Folding Electric Bikes — Magicycle Jaguarundi
Like I said above, each Jaguarunid is equipped with a pair of hydraulic disc brakes and a hydraulic front fork. The front fork provides a smoother ride while riding on bumpy roads. And the Tektro hydraulic disc brakes give you a stronger braking force with less effort. Its small folding size makes things possible when it comes to traveling with an ebike. Also, as with other Magicycle bikes like Magicycle Cruiser, and the Ocelot Pro, Jaguarundi got a fast smart charger as well, offering a short charging time of 3-5 hours. With such great features, it is only available for $1499. If you are looking for an electric folding bike at a good price, then Magicycle Jaguarunid can be the best choice.
Magicycle Ocelot Pro Long Range Step-Thru Fat Tire Electric Bike Presale Only $1,989! Limited offer! Don't miss it! Free Shipping!