Free Accessories
Full Fenders
$107.99
Front Light & Tailight
$75.98
Repair Tool Kit
$19
Rear Rack
$99
750W 86Nm
High-Power Motor
Class 2/3
Max 28 MPH with Pedal Assist
Tektro M300
Mechanical Disc Brakes
FEATURES
Magicycle Cruiser Ebike
Regain the fun of riding with the Magicycle Cruiser ebike - the real power beast. It is equipped with a powerful hub motor that can reach a maximum output of 1000W. With 26" puncture-resistant fat tires, the Cruiser Pro provides a smooth riding experience on any rough terrain. The 52V battery ensures higher power efficiency, allowing the Cruiser Pro to cover a longer distance.
750W Motor
With the 750W power output, you can reach your potential and push your limit. Embrace the true happiness and fun that comes from the power.
52V 15Ah Battery
The 52V 15Ah battery system leads to an improved efficiency, a longer range and a extended battery life. No worries about battery fire with the BMS built inside
Color LCD Display
Get the real-time data on it. The display is designed to be seen clearly even exposed to sunlight. Come and customize your rides with it, a variety of functions are waiting for you to explore.
Mechanical Disc Brakes
Both the front and rear 180mm single-action mechanical disc brakes provide ample stopping power even in the harshest condition. Super sensitive brakes make even steep slopes a piece of cake
Front Fork
Absorb shocks and vibration effectively while riding off-road. The front fork gets rid of riding fatigue and leads to smooth rides.
LED Headlight
The LED headlight leads to a better vision while cycling at night. No need to worry about your safety with this headlight illuminating the road ahead.
Real World Range Testing
On Throttle
52V 15Ah
Battery Capacity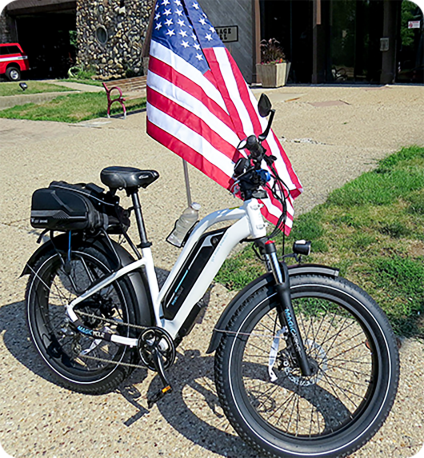 Tailor-fit comfort. For every rider.
Size guide
---
---
Specification
Battery
52V 15Ah lithium battery
Display
Color LCD display with USB charging
Charger
Short-circuit proof 3.0A fast smart charger
Charging Time
3 - 5 Hours
Total Payload Capacity
350lbs
Controller
52V 750W FOC Smart Controller, Current Range 7-22Ah (IPX8)
Hub Motor
750W Brushless Gear Motor
Recommended Rider Heights
5'5" - 6'5"
Pedal Assist
Intelligent 7 levels pedal assist with 12 magnet cadence sensor
Package Dimension
153.5CM x 36CM x 88.8CM
Tires
26" x 4" Kenda fat tires
Front Fork
Alloy Front Suspension Fork with Lockout and Adjustment
Brake Lever
Aluminum Alloy Comfort Grip Levers with Motor Cutoff Switch
Throttle
Half Twist Throttle
Saddle
Soft and comfortable
Lights
Integrated front and brake lights
Seat Post
Diameter 30.9mm length 300mm
Pedal
Wellgo alloy pedal with reflectors
Crank
42T,170mm forged alloy, dual-sided bashguard
Freewheel
Shimano-14-28T BROWN/BK
Kickstand
Heavy duty aluminum
Bike Frame
6061 aluminum frame
Gearing
Shimano 7 speed gear shift system
Brake
Tektro Aries MD-M300 Mechanical Disc Brakes
Spokes
13 Gauge on the front / 12 Gauge on the back
Assembly Instructions Video
Click to view >
Click to view >
Magicycle Time Machine
Of course I first saw the Magicycle Cruiser on a YouTube review. I knew it was a little tall for me, but I couldn't resist. I am 68 years old, but this bike makes me feel 28. I am Superman climbing hills around my area and since I live on one I don't arrive home sweaty and exhausted any more. It is a little tricky in close quarters maneuvering. The throttle is active up to full speed whenever the bike is turned on so... be careful. It is very powerful, with torque to spare.
Worths The Money
I had a few questions about my bike and yes they actually answer the phone. Hard to find a good buy with such service as well. Very satisfied with this bike so far.
The Cruiser
Took 10 days to receive the bike but worth the wait. So far the bike has been great. Hint - when assembling the bike watch and follow the video. Much better than the instructions.
Great feature
The smooth and responsive brakes on this cruiser bike provide a reliable stopping power, ensuring my safety on the road. The gears shift seamlessly, allowing me to find the perfect cadence for any terrain.
Love it!
I absolutely love this cruiser ebike. I have been able to ride it when ever I like and don't have to worry about my knees or back hurting or getting tired. The bike comes with fat tires that offers a smooth and comfortable ride.
Cruiser FAQ
What terrain is Magicycle Cruiser good for?
From roads, mountains, sand to grass, Magicycle Cruiser can handle them all. 26"X4" Kenda puncture resistant tires offer upgrade grip and skid resistance ability. The fat tires provide good traction on gravel and dirt, and put less pressure on the ground, which supports the rider to travel through the places that other bikes simply can't go.
What's the Ebike Classification of Cruiser?
The factory default setting of the Magicycle Cruiser is Class 2, but it can be unlocked to Class 3.
What's the difference between the Step Over and the Step-Thru type?
The only difference between the Step Over and the Step-Thru is the style. The two models are basically the same in terms of dimensions, battery, speed, components, etc.
Some customers prefer to have more of an eye-catching moped-looking bike which is easier to get on and off, whereas others prefer a sportier, more traditional frame. Regardless of the frame, you can still expect the same performance and ride!
How fast does Cruiser go?
The default speed setting is 20mph, Cruisere is able to reach 28mph (45km).
What is the recommended tire pressure of Cruiser?
Magicycle Cruiser should be between Min: 5 PSI ~ Max: 30 PSI.
Usually, you can check the recommended pressure on the tire sidewall which is how much you should inflate your tires.
What's in the Cruiser gift package?
①Bike Repair Tool ($19 Value): We carefully selected the following repair tools according to our ebike features: 3 wrenches, 6 Allen Wrenches, and 1 screwdriver.
②Magicycle Full Fenders ($107.99 Value): Reducing the amount of water, mud, and grime that sprays up into your face, all over your bike and your backside is enough to warrant their use.
③Magicycle Rear Rack ($99 Value): Provides a stable framework to hold gear on your ebike.
④Front & Rear Lights ($75.98 Value): Integrated front and rear lights keep you to be seen all the time.
Can I use the throttle in pedal assist mode?
Can I use the throttle in pedal assist mode? Yes, both model can be used.
Does the ebike come with a charger?
Yes, the Cruier comes with a 3.0A fast smart charger. Additional chargers are available on our accessories page.
How can I use the Magicoins?
We welcome our customers to use the Magicoins!