July 03,2023
Follow Your Spirit of Adventures with an Ebike SUV
Are you looking for an e-bike that provides a comfortable ride, no matter where your outdoor adventures take you? The Magicycle Deer ESUV is the answer! This full-suspension all-terrain bike features an aluminum frame and 26" X 4" fat tires to ensure comfort and safety as you explore remote pathways, scenic beaches, and mountain trails. As a bonus feature, it also comes with an upgraded motor for abundant power and torque.
What sets the Deer ESUV apart from other e-bikes is its impressive range of benefits. Besides being incredibly comfortable thanks to its full suspension system and large tires, customers will also appreciate the improvements in physical health. Weight control is more easily managed when combined with regular outdoor exercise – such as bike riding - while joint strength, flexibility, and overall well-being are improved too! Furthermore, cycling doesn't just make you healthy - it can reduce anxiety levels tremendously. Get yourself on a Magicycle fat tire electric bike instead of opting for sedentary activities such as watching television or staring at a computer screen. Increase your time spent outdoors exercising – boost your physical and mental health!
For the Sake of Your Health -- Ride!
Physical and mental health are closely intertwined, and tackling anxiety and depression is no easy task. Scientists believe that exercise outside in nature can strongly contribute to better well-being, mood, clarity, and confidence. What's more, it appears that time spent outdoors may even extend life expectancy. In this day and age when 30% of Americans are noted as obese, outdoor physical activity helps to counterbalance the effects of poor diet - burning calories through walking for one hour can reach up to 300 burned, while biking reaches 700! Such action not only promotes weight loss but also strengthens joints and increases muscle flexibility.
However, exercising needs to be fun, or else it quickly becomes a chore. E-biking offers multiple advantages which can turn routine into playtime - from its comfortable design providing full suspension for maximum stability even on off-road path adventures to available step throe frame designs for convenient use - Magicycle's Deer ESUV bike serves as the perfect multipurpose ride for all occasions. Its sturdy aluminum frame plus 26"X4" fat tires cushioning the shock from rocks or tree roots promote comfortability roads or trails alike; furthermore, its higher tire pressure produces improved traction - perfect features to accompany long rides anywhere you desire!
Full-Featured Fat Tire Fun
Are you looking for an ebike for sale that is equipped with the best features for cruising around town, traversing mountains, and tackling off-road terrains? Look no further than the Magicycle Deer ESUV. This hybrid electric model offers superior comfort, extended battery life, fat tires for more grip and traction, a front fork suspension system for enhanced stability, and a rear wheel suspension that absorbs shock from bumps. Plus, highlighted by an available step-thru frame, this bike has been designed to keep riders comfortable during longer journeys or all-day rides. The 26" X 4'' fat tires are useful not only because they provide cushioning while absorbing the stress of bumps in any environment but also because they offer improved traction.
Additionally, its lightweight yet durable aluminum frame allows riders to achieve greater speed without worrying about feeling too much vibration. As a classic ESUV bike design made to last, the Magicycle Deer ESUV demonstrates first-class convenience and performance while empowering adventurers of all skill levels to explore new horizons.
Even Beginners Can Ride the Magicycle Deer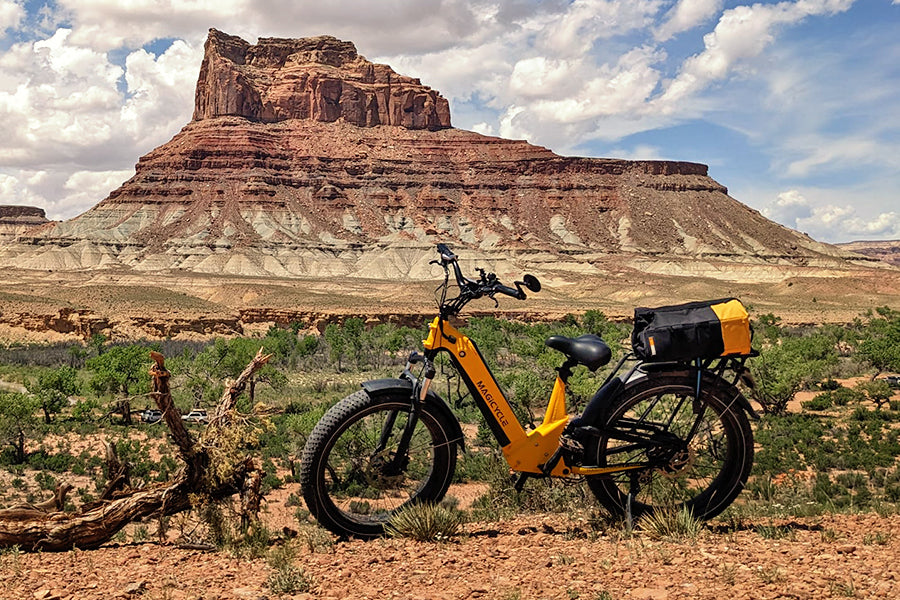 The Magicycle Deer ESUV e-bike is a strong, comfortable, and user-friendly ride for all of your off-road explorations and around-town biking. Featuring a full suspension design and an available step-thru frame, this all-around multipurpose ESUV can handle any terrain while also ensuring your comfort! This e-bike boasts 26" X 4" fat tires to provide cushioning, absorb bumps, and improve traction on diverse surfaces.
Additionally, the Deer has a sturdy aluminum frame equipped with front fork suspension as well as special shock absorption for its rear wheel. All these features combined make it one of the most comfortable e-bikes on the market today. For those looking to enjoy long journeys with peace of mind that their bike isn't failing them in any way, the Magicycle Deer ESUV is an ideal option!
Magicycle's Deer is the perfect bicycle for any ride, no matter what terrain it takes you on. The full suspension feature, an ultra-durable aluminum frame, and wider fat tires are the perfect combination for a smooth and luxurious ride. Many people may not think that fat tires are necessary, but most bike riders who have experienced them will know differently. Low tire pressure helps absorb more shock from bumps and other obstacles encountered throughout the ride. Plus, wider tire treads offer greater traction to keep your riding experience safe and secure. But best of all, Magicycle offers the Deer ESUV in a step-thru frame design; this isn't easy to find with an ESUV so take advantage of this beautiful model!
Feature-Rich Fat Tire E-bike
The Magicycle Deer is a premier electric sports utility vehicle, combining comfort and power with an impressive range of features. Its reputation for delivering an optimal ride starts with the name-brand fat tires providing cushioning and traction suited to any terrain. That same tire configuration provides unrivaled stability on the trails, along with full suspension that absorbs bumps and jolts from rough pavement or forest paths.
For exceptional performance, the Magicycle Deer has been meticulously engineered with a powerful 1100-watt (peak) motor – 96.8 Neuton meters of torque – giving the Deer about the same torque as 800cc motorcycles. As a hub motor, the Magicycle Deer's efficient design includes fewer moving parts than mid-drive motors, meaning superior reliability while riding as well as easier installation and repair. Riders also enjoy excellent acceleration thanks to its quick start capability, cruise speed control, and hill-climbing ability all dependent on reliable power output from this solidly constructed motor. When you need both comfort and strength from your ebike SUV, the Magicycle Deer gives you plenty of both!
The impressive list of specifications clinches the deal...this full-suspension fat tire e-bike is a great choice!
Battery 52V 20Ah LG lithium battery
Charger Short-circuit proof 3.0A fast smart charger
Range 60-80 miles
Controller 52V 750W FOC smart controller, Current Range 7-22Ah (IPX8)
Hub Motor  750W brushless gear motor(IP55)
Recommended Rider Heights  5'8" - 6'8"
Display Color LCD Display with USB Charging
Charging Time 4 - 7 hours
Total Payload Capacity 400lbs
Weight 92.3lbs/41.9kg
Frame size 26"
Pedal Assist 7-level Intelligent pedal assist with 12-magnet cadence sensor
Tires Kenda 26"x4.0" Fat Tires
Front Fork Alloy Hydraulic lockout suspension fork
Brake Lever Aluminum alloy comfort grip levers with motor cutoff switch
Throttle Half twist throttle
Lights Integrated front and brake lights
Pedal Wellgo alloy pedal with reflectors
Freewheel Shimano-14-28T BROWN/BK
Bike Frame 26" 6061 Aluminum Frame
Brake 180mm Hydraulic Disc Brakes
Front Light 6V LED light
Chain KMC chain
Saddle Super Soft Cushion
Stem MA-400 SSABK
Seat Post Diameter 30.9mm length 300mm
Crank 48T,170mm forged alloy,dual-sided bash guard
Kickstand Heavy duty aluminum
Gearing Shimano 7-speed gear shift system
Spokes 13 Gauge on the front / 12 Gauge on the back
Magicycle Deer ESUV Build Quality
When it comes to e-bike shopping, build quality should be the first criterion on your list. Low quality can compromise safety and decrease the level of enjoyment you gain from your e-bike. Unfortunately, some brands may be tempted to skimp on quality in order to maximize their profits by cutting production costs. Without owning a factory, it's difficult for any brand to have effective control over the manufacturing process and ultimately produce a good product. In reality, many "brands" simply purchase an e-bike from a mass-produced corporate facility and label it as their own without any real oversight. Keep this in mind when making your next purchase; make sure you're getting the excellent quality that will keep you safe and happy on your ride!
Quality control is the most important factor in selecting a fat tire e-bike, regardless of whether you plan to ride it recreationally or as a commuter. Quality plays a huge role in both safety and reliability and yet too many shoppers focus on price rather than quality. Unless a fat tire e-bike or ESUV or any type of e-bike is manufactured under excellent quality control, the safety and reliability and longevity of the bike are questionable.
Factory ownership is an often-overlooked key to the level of quality that will give you many years of riding satisfaction. The consistent performance and reliability of Magicycle e-bikes are the result of factory ownership. How can a brand maintain excellent quality control if it does not own the factory that produces its e-bikes? The answer is simple -- it cannot.
Magicycle Inc. is proud to be one of the very few e-bike brands that manufacture e-bikes in its own factory and has been building e-bikes for more than 16 years. That's a lot of experience! The 107,000 sq. ft. Magicycle factory employs 150 workers and features state-of-the-art technology with an output of 300,000 units annually. More information is available at www.magicyclebike.com or by phone at 213-559-1861.
The Magicycle brand has always focused on providing a high-quality product at a very consumer-friendly price point. Many riders have noted that no other company can match the quality and power of a Magicycle in the same price range. The tradition of quality control and economical pricing is a very important combination. 
When a company has award-winning fat tire e-bike designs like the Magicycle Design Team, and the company also owns the factory that builds the e-bikes, complete quality control is available. Magicycle Inc. excels in quality control all the way from original design to manufacturing to shipping. That's exactly what consumers want for their e-bike brand. As you go through the process of selecting an e-bike cruiser, always ask this question: Does the brand own an e-bike factory?
Enjoy FREE 7-10 Day Shipping
Select your favorite color and purchase a gorgeous Deer ESUV from the comfort of your living room. This month you can enjoy $200 off, giving you a sale price of $1989! Only Magicycle gives you these powerful features and great build quality at this low price point -- including the long-range 52-volt 10-amp hour battery, full set of fenders, and a sturdy rear rack. Get the details here.