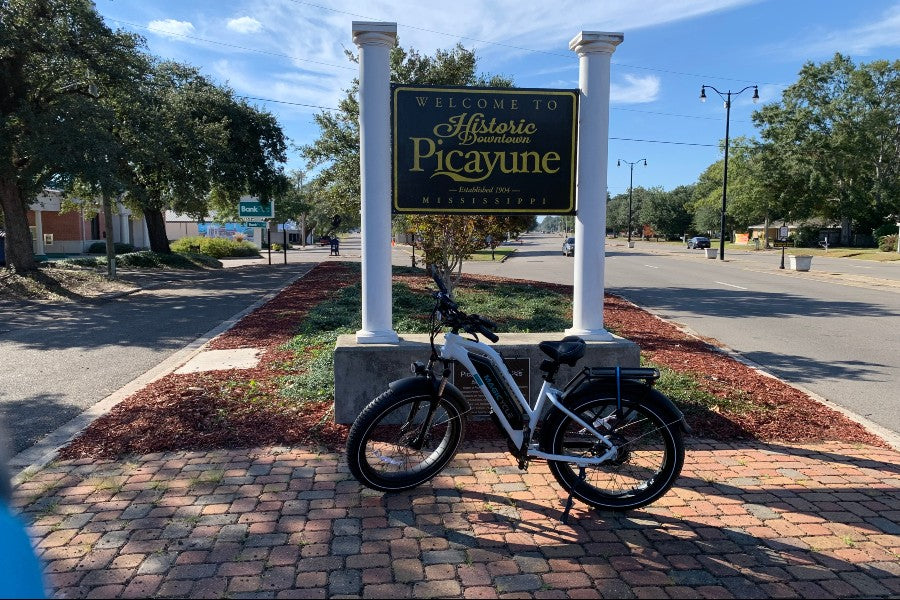 May 26,2023
Electric Mountain Bike Comparison: Magicycle Cruiser Pro VS Himiway Cobra
There is no doubt that the market for electric mountain bikes is growing rapidly year after year. Buying a powerful mountain ebike will give you an excellent riding experience on your off-road cycling. It allows you to go up hills more easily while providing high performance and excellent control on the downhills.
To make electric mountain bikes more stable on rough terrain, Magicycle designed the Cruiser Pro so that riders can enjoy a more comfortable and safe riding experience. We found that Himiway ebike also has a model of an electric mountain bike - Cobra. The same electric mountain bike, what is the difference between these two models? Next, let's take a look at the details of the Cruiser Pro compared to Himiway Cobra.
Specification Statistics
The ebike market is actually a standardized market to sell ebikes that meet the needs of various buyers. Each brand of electric mountain bike has its own design specifications. There are four main parts of mountain electric bikes for sale, including the frame, drive system, motor, and battery. The design of these component specifications can often have an impact on their quality. Let's see what the Cruiser Pro and Himiway Cobra design specifications are like.
 

Cruiser Pro

Himiway Cobra

Motor

750W Hub Motor

750W Hub Motor

Charger

3.0A

3.0A

Battery

1040Wh

960Wh

Pedal Assist

7-level Pedal Assist

5-level Pedal Assist

 

Throttle

Half Twist Throttle

Thumb Throttle

Brakes

Hydraulic Disc Brakes

Hydraulic Disc Brakes

Bike Frame

6061 Aluminum Frame

6061 Aluminum Frame
From the above table, we will find that these two models seem to be similar choices in terms of accessories. But a closer look will also reveal some important differences. For example, the difference in capacity on the battery specifications. The capacity of Cruiser Pro is 1040 Wh, while Himiway Cobra is 960Wh.
The higher the battery capacity means the better the range. Thanks to this lithium-ion battery, the Magicycle Cruiser Pro's range, stability, and safety are effectively improved. Besides, the battery is one of the most important parts of the electric mountain bike, we will offer you a 2-year warranty, which also provides you with a safety guarantee for your ride.
Comparison of main features between two mountain ebike
In addition to the battery differences mentioned above, these two electric mountain bikes have subtle differences in other important components, including the motor, pedal assist, and throttle. We will provide a detailed comparison of these main features in the following.
Ebike Motor Comparison
Electric bike motors provide you with electrical assistance to reduce the pedaling force required to power the bike forward. Especially for off-road riding, the motor plays an important role. With the assistance of the motor, you are able to climb hills more easily while reaching higher speeds with less physical effort.
Although both the Cruiser Pro and Himiway Cobra use 750W motors, the motor torque they provide is different. The maximum torque available from the Himiway Cobra motor is 86Nm. However, the motor of the Magicycle cruiser pro can reach a torque of 96Nm. As we all know, the higher the torque, the better the acceleration of the ebike. Magicycle mountain ebike motors allow you to climb with ease, plus you'll enjoy quick acceleration when you need it.
Ebike Pedal Assist Comparison
Ebike Pedal assist provides extra power at start-up, but only works when the rider is actually pedaling. The extra power provided by pedal assist reduces the amount of energy the rider needs to put into their own pedals. The rider can ride easily and handle all difficult terrain. Besides, using pedal assist can extend the life of your ebike battery.
There are different levels of the pedal assist system, the higher the level, the faster speed. Most electric mountain bikes are equipped with 5 levels of pedal assistance, like Himiway Cobra. Magicycle Cruiser Pro provided you with a 7-level pedal assist. You can customize each of the 7 levels to perfectly suit your abilities and keep you safe. You can also freely adjust the pedal assist level according to your exercise level. For example, you can turn down the pedal assist level if you want to get more of a workout. Or if you want an easier ride, you can turn up the pedal assist level.
Ebike Throttle Comparison
The ebike throttle provides you with fast power. When you feel tired after a long-distance ride, the throttle mode can also help you ride. If the throttle mode is used in combination with the pedal assist mode, it will allow you to ride better.
There are many different types of ebike throttles. Himiway Cobra is equipped with a thumb throttle, while our cruiser pro is half twist throttle. So what is the difference between these two types of throttle?
The thumb throttle is designed to be operated by the thumb. One disadvantage of using this throttle is that your fingers will feel sore after a long ride. But if you use a half-twist throttle, you will avoid this soreness. A half-twist throttle is also much easier to use and safer. This is because it prevents you from accelerating unexpectedly.
Advantages of Cruiser Pro compared to Himiway Cobra
If you want to conquer all kinds of off-road terrain, choosing an electric mountain bike is the best choice. Selecting an excellent electric mountain bike will often have a huge impact on the quality of your ride. Actually, both Cruiser pro and Himiway Cobra are excellent electric mountain bikes. So how do you choose one between them? What are the advantages of our Cruiser Pro?
Quality
For many cyclists, buying an electric mountain bike is a very prudent investment. Only if you are buying a high-quality mountain electric bike will you feel that it is worth it. Of course, buying an electric mountain bike can also give you many benefits. It not only allows you to get a proper workout but also to enjoy the ride.
Magicycle is one of the few electric bike brands with a factory that has been producing electric mountain bikes for many years. Our electric bikes are subject to strict quality control from manufacturing to shipping. We have always made it a priority to manufacture high-quality electric bikes. So if you choose the Magicycle ebike, you will not regret your choice.
Price
Price may also be in your consideration when you choose an electric bike. No matter how good an e-bike is, you may also be worried about whether you can afford it. Compared to the Himiway Cobra, Magicycle Cruiser Pro is not an expensive electric mountain bike.
Magicycle has been committed to providing riders with high-quality electric bikes at affordable prices. The Cruiser Pro is ahead of the Cobra in terms of power, range, and quality, while you might think it must be much more expensive. But that's not the case. The Cruiser Pro currently retails for $1,899.
Comfort
For off-road riders, the comfort of electric mountain bike riding is very important. Magicycle's primary concern when designing this electric mountain bike was also the comfort of the rider. The wide seat and upright handlebars put you in a more relaxed position. This will not put any stress on your riding position.
Cruiser Pro also uses a front suspension fork with lockout and adjustment. It optimizes the contact between the tire and the road to improve your ebike's handling. Even when riding on uneven roads, you can still enjoy a comfortable riding experience.
Which one is right for you
Now that you've seen these comparisons, we hope you have a detailed understanding of these two electric mountain bikes. In our opinion, there are still many similarities between them. It's just that in some features, our Cruiser pro will be slightly better than Himiway Cobra. But if you have to choose between them, the choice is up to you. What we can do is let you know more about these two mountain ebikes.
Buying an electric bike for adults is a very important decision that you can consider carefully. You can choose the electric bike that best meets your needs. After our detailed introduction, we believe you have your own answer in mind.
All in all
Anyway, Magicycle Cruiser pro and Himiway Cobra are good choices for electric mountain bikes. If you're not sure about Magicycle, you can check out our customer reviews to see what others have said about our Cruiser pro. Our prices are lower than Himiway Cobra, but it doesn't mean our bikes aren't as good as it. No other brand can offer you an electric mountain bike with the same quality in this price range!
The best electric mountain bikes are for sale on magicyclebike.com! And limited offers are available right now! Free shipping, you don't want to miss them!