Free Accessories
Full Fenders
$107.99
Repair Tool Kit
$19
Front Light & Tailight
$75.98
Rear Rack
$129.99
Full Suspension
Front & Rear Shock
750w/1100w
High-Power Motor
80+ Miles
Estimated Range
28 MPH
Top Speed (with Pedal Assist)
400 lbs
Max Payload Capacity
FEATURES
Magicycle Deer Ebike SUV
As the first ebike suv in the US, the Deer is the first choice for recreational riders who love to use ebikes for all kinds of purposes, such as commuting or off-road riding. The full suspension system will give you the highest level of shock absorption and the smoothest bike rides. With both hydraulic disc brakes and a 52V 20Ah battery, the Deer provides the most comfortable experience.
1100W 96Nm Motor
With the 1100W peak power output, you can reach your potential and push your limit. Embrace the true happiness and fun that comes from the power.
52V 20Ah 21700 Battery
"21700" represents higher capacity, greater power output, and longer battery life. The 52V 20Ah battery makes Deer a powerful long-range electric bike.
Hydraulic Disc Brakes
Stay safe wherever you go with hydraulic disc brakes. Get the amazing and responsive braking power at the flick of your fingers. You will be confident on every ride.
Hydraulic Coil Suspension
The rear suspension adopts a hydraulic damper, which absorbs the bumps while riding on beaches, gravel roads, or forest trails. This is a great fit for recreational riders who love to ride on mixed terrain.
Smart Color LCD Display
The display provides a customizable user experience. You can program speed limits, the power delivery of different levels of PAS, slow start, and more to meet your own needs and ride smarter.
Real World Range Testing
On Throttle
52V 20Ah
Battery Capacity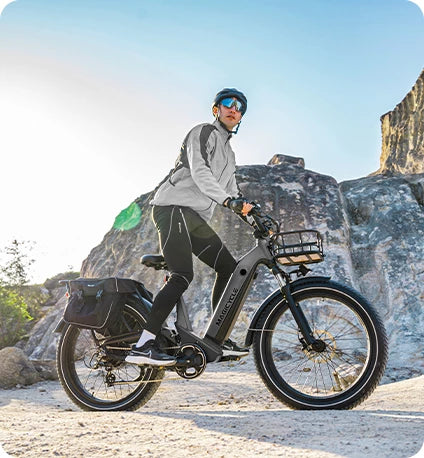 Tailor-fit comfort. For every rider.
Size guide
---
---
Specification
Total Payload Capacity
400lbs
Saddle
Super Soft Cushion
Throttle
Half twist throttle
Kickstand
Heavy duty aluminum
Gearing
Shimano 7 speed gear shift system
Brake
180mm Hydraulic Disc Brakes
Lights
Integrated front and brake lights
Seat Post
Diameter 33.9mm length 250mm
Pedal
Wellgo alloy pedal with reflectors
Battery
52V 20Ah LG lithium battery
Charger
Short-circuit proof 3.0A fast smart charger
Hub Motor
750W brushless gear motor(IP55)
Display
Color LCD Display with USB Charging
Freewheel
Shimano-14-28T BROWN/BK
Front Fork
Alloy Hydraulic lockout suspension fork
Crank
53T, 170mm forged alloy, dual-sided bashguard
Spokes
13 Gauge on the front / 12 Gauge on the back
Tires
Kenda 26"x4.0" / 20"x4.0" Fat Tires
Weight
Deer 26": 92.3lbs(41.9kg) / 20": 83lbs(37.6kg)
Bike Frame
Deer 26": 18"/ 20": 16" 6061 Aluminum Frame
Recommended Rider Heights
Deer 26": 5'5" - 6'8" / 20": 4'10" - 6'2"
Brake Lever
Aluminum alloy comfort grip levers with motor cutoff switch
Controller
52V 750W FOC smart controller, Current Range 7-22Ah (IPX8)
Pedal Assist
7-level Intelligent pedal assist with 12-magnet cadence sensor
Package Dimension
Deer 26": 166CM x 33CM x 88.5CM /20": 154CM x 32CM x 77.5CM;
Assembly Instructions Video
Click to view >
Click to view >
Great bike, impressive customer service
I've gone hundreds of miles on this purchase now and I still love it. I've seen no issues with usage, no problems with the batter or charge, and I can honestly say I really like this bike. I've used it on roads, large parks, through mild terrain, and up/down many hills (paved and unpaved).
After receiving, I did have to make a minor adjustment to the brakes, but otherwise it was easy to put together and use. The instructions could be more clear, but other than that, I think this is a great bike to get for those looking for an electric bike. It performs as advertised and in my opinion, it goes beyond that. DO IT! Get this bike!
Fantastic
I am very pleased with the spike. It is everything I expected as per the description. The company so far has been very good to me answering any questions I have through email. Having an electric bike is a new experience for me and I¡¯m sure it could be for many others who stop using their bikes a little less because of health issues. Electric bikes are for everyone, but I think it¡¯s especially helpful for those that stop riding their bikes do two bad knees or other health issues. Yes go ahead and ride your bike normally and when you need that little pick up and you want to keep going that¡¯s when you kick into power assist you are still peddling but with a little push like somebody from the back of your bike giving you a boost. For one minute do not think you are still not getting a little exercise and working your heart and legs, of course unless you¡¯re just using the throttle then you¡¯re not doing anything, but you do have that choice.
Wow!!
After months of internet searches comparing ebike manufacturers and models, looking at all the specifications, and deciding which style would work best for me, I finally decided on Magicycle and went with the Deer. I chose Magicycle because of their great reputation, their fantastic product line, and their extensive assortment of available accessories. This bike was to be a retirement gift to myself and I wanted to deck it out with all the options I would need for making those long trail rides. For me, it was kind of scary making a major purchase directly from another country so far away without ever actually seeing the bike in person or taking it for a test drive. Let me tell you, all those fears quickly faded when my Deer was delivered 1 week after placing the order. This ended up being one of the best decisions I have ever made in my life. I have always loved biking, and I still love my old Trek, but after turning 60 it became harder and harder to deal with the hilly terrain in my area, so the old Trek was getting used less and less. My new Deer has solved that problem, and now I'm out riding longer and faster than ever before. Of course, it doesn't hurt that the Deer is about as cool looking as it can get. I love watching the heads turn when I go flying by!
Works well
So far so good! Its fun and I love the fat tire.?
Great for a wide height range
I got the bike for my wife that is 53. Its also comfortable for me at 63.